Sugababes/Get Sexy (Live)
Posted on 30.8.09 at 2:35 PM.



Sugababes being all hot, performing "Get Sexy" on T4. The single is out today in UK so download it from itunes! Tomorrow it will be released as physical single. Too bad Suga's didn't pull this off live as well as they usually do. The choreography was okay, but they are definately better singers than dancers but I give them points for trying. The vocals were good but this song is just not that easy to perform live, because it's all shouting. But other than that, nice to see Sugababes doing something new and diffirent and being all sexy.



Labels: Sugababes
| 5 Comments



Sugababes/Album title, tracklist and already charting!

Posted on 29.8.09 at 7:28 PM.


The seventh studio album by the
Sugababes
will be called "Sweet 7". Sugatime, fansite provided this exclusive information about the upcoming tracklist of the album, confirmed by reliable source and later by Play.com. Also, congratulations for Sugababes for having #2 on Ireland iTunes already after just few hours. UK release will be tomorrow digitally and physical single (with double sided poster) will be out on Monday. Make sure you'll get it!
"Sweet 7" will be released on November 23rd, following the second single "About A Girl" on November 2nd. Album cover will be revealed shortly.
1. Get Sexy
2. Wear My Kiss
3. About A Girl
4. Wait For You
5. Thank You For The Heartbreak
6. Miss Everything feat. Sean Kingston
7. She's A Mess
8. Give It To Me Now
9. No More You
10. Sweet And Amazing
11. Little Miss Perfect
Labels: Sugababes
| 1 Comments



Video Music Awards 2009/Madonna to be performing too?

Posted on at 7:09 PM.


There's a rumor flying around that the Queen of Pop,
Madonna
will perform her new single "Celebration" at next month's Video Music Awards in New York City. Madonna's rep insists there are no plans for the VMAs this year. But let's say it does actually happen—would she be able to top some of her most memorable past appearances?
Who will ever forget Madge swapping spit with
Britney Spears
and
Christina Aguilera
in 2003? And for those of us old enough to remember, Madonna first made her mark at the VMAs way back in 1984, when she rolled around the Radio City Music Hall stage in a white wedding gown and matching lacy gloves while performing "Like a Virgin." "Celebration" is the title track of Madonna's upcoming greatest hits compilation. The VMAs certainly would make the perfect venue to promote the new release, as it drops Sept. 29.
Those set to perform during the show, which takes place Sept. 13 at Radio City Music Hall, include
Jay-Z
,
Lady Gaga
,
Pink
,
Taylor Swift
,
Green Day
and
Muse
. The night will be a huge night of Diva's because also
Beyonce
is said to be performing along with Special appearance of Britney Spears, yet unconfirmed though.
Watch new VMA comercial
, Featuring Britney Spears and Russel Brand, The host of this year.
Labels: Madonna
| 2 Comments



All Saints/Reforming not happening!

Posted on 28.8.09 at 8:26 PM.


All Saints "will never" get back together again, says Melanie Blatt (second from right). The star has ruled out reuniting with her former bandmates - Nicole Appleton, Natalie Appleton and Shaznay Lewis - insisting she is more interested in partying than performing.
She said: "All Saints are never getting back together again. I never want to sing again." Melanie also revealed she and Nicole enjoyed interviewing stars on the red carpet at the BRIT Awards last February and she is considering pursuing a career in TV. The 34-year-old beauty added: "I did the BRIT Awards with Nicole and we just went round chatting to people and then got drunk. "That's my goal - to get paid for chatting to people and getting drunk!"
Melanie and Shaznay founded the All Saints in London in 1993. After recruiting the Canadian-born Appleton sisters three years later, the female group enjoyed chart success. However, increasing tensions and rivalry within the band led to their split in 2001. After pursuing solo projects, the girls announced they were reforming in 2006 following months of speculation. But poor sales of their third studio album 'Studio 1' saw the band part from their record label.
Labels: All Saints
| 0 Comments



VipMedia/Cover showdown: Miley & Mariah!

Posted on at 7:37 PM.



Miley Cyrus covering

Ashlee Simpson's "Kicking and Screaming"

on her new EP. While Miley's version is pretty much identical, it might be similar case than Leona Lewis recording Avril Lavigne's "I Will Be", singleworthy track released as a bonus track. Because it was considered as itunes only bonus track, Leona was free to release it as a single under her own name. Could be similar to this or just pure cover but you can't judge a cover that is a copy of the orginal, minus the few diffirent notes from Miley. Gonna have to say I'm farely impressed with her next single "When I Look at You".

Mariah Carey's second single (first according to her label) "I Wanna know what love is". Yes, it's a cover of

foreinger's old classic

. I've always been fan of great cover songs that bring the song to new decade, but I'm sadly missing a good cover here. Mariah starts off really well and verses have impressive vocals but the chorus goes by with such weak vocals that really don't capture what the verses built up to expect. Overall the song is over so quickly, never really reaching the high peak. Too bad for Mariah, because after "Obsessed", I was looking forward to perfect Pop-ballad.

Discuss.

Labels: Mariah Carey, Miley Cyrus


| 14 Comments



Shakira/Cover and tracklist

Posted on 27.8.09 at 10:16 PM.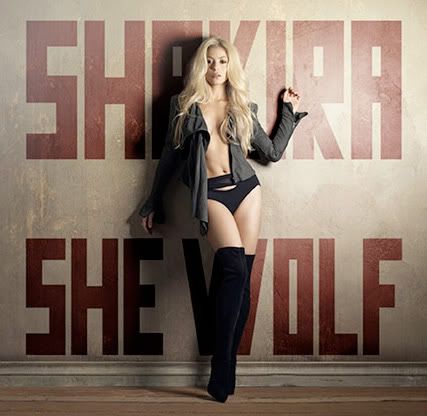 Here's also official cover art and tracklist of Shakira's upcoming album "She Wolf".
1. She Wolf
2. Did It Again
3. Why Wait For Later
4. Long Time
5. Good Stuff
6. Spy
7. Men In This Town
8. Gypsy
9. Send Me An Angel
10. Loba ('She Wolf' Spanish version)
11. Devoción
12. Años Luz
13. Lo Hecho Está Hecho ('Did It Again' Spanish version)
Labels: Shakira
| 5 Comments



Backstreet Boys/Video Premiere

Posted on at 9:51 PM.




Backstreet's Back! Another cool video from The Backstreet Boys. Their RedOne-driven comeback single "Straight through my heart (Soldier Down)" has recieved great feedback from public and is hopefully becoming a hit. If the song didn't confirm it, the video will confirm their plans to break in to the pop charts and make sure they are considered as "cool boyband" and not to be counted out just yet. The video is dark, flashy and the guys have sharp choreography. The video should work pretty well for it's purpose, even though it's not their best video to date.

Looking forward to see the impact of this song in charts!



Labels: Backstreet Boys


| 2 Comments



Backstreet Boys/Album cover and tracklist!

Posted on at 9:44 PM.


Here's a new album cover of the Backstreet Boys album "This is Us" that is to be released on October 8th. List below is the official tracklist for US but as always, diffirent countries get diffirent editions with more bonus tracks. But there's no "Fallen Angel"! Really??



1. Straight Through My Heart




2. Bigger




3. Bye Bye Love




4. All Of Your Life (You Need Love)




5. If I Knew Then




6. This Is Us




7. PDA




8. Masquerade




9. She's A Dream




10. Shattered




11. Undone
What do you think?
Discuss
Labels: Backstreet Boys
| 3 Comments



VipMedia News Flash/

Posted on 26.8.09 at 9:05 PM.


-
Girls Aloud
's new tour DVD of "Out of Control is due for release on 28th of next month as double DVD set. The set includes the whole show with special footage such as music videos and interview. The content of another disc is yet unknown, so the rumours suggest it could be audio disc of studio versions of the songs from tour.
-
Beyonce
is shocking us all with her non-stop singles. And they said Rihanna or Pussycat Dolls are milking it! Beyonce will release "Video Phone" up next in US and as for the ballad, "Broken-hearted girl" will be released up next. "Sweet Dreams" is her current single outside the states, but despite the great success of it - she is doing it over. "Radio" would've been much better choise than "Video Phone" or "Diva". More details set to appear soon.
-
Lady Gaga
will release a new Remix EP called
"Hitmixes"
worldwide on September 1st, and it's already released on Canada. It includes remixes of singles "Poker Face", "Just Dance", "Paparazzi" and even Remix of the title track of the album, "The Fame".
- Fans have been wondering if
Miley Cyrus
won't release video for her new single "Party in the USA", but she will. She already filmed video for her next single, "When I Look At You" but now the video for the current single is being edited. There is no date set yet for the clip though.
-
Alesha Dixon
will re-release her album "The Alesha Show" later on. Alesha has said she's "Sort of" doing a new album, she's writing new tracks but she's gonna record some for the "encore" of the album, as she describes it. She also confirmed to officially start on the new album on January 2010.
Labels: Alesha Dixon, Beyonce, Girls Aloud, Lady Gaga, Miley Cyrus
| 7 Comments



Brooke Hogan/"Strip" now 4th single?

Posted on 23.8.09 at 1:09 AM.


Brooke Hogan's label is absolutely a mess. "Falling", her first single off her new album "The Redemption" was a flop and then she decided to move on to next single "Hey Yo" that was released digitally on June and it was expected to be the single to finally chart in US Charts. It failed to chart and Brooke confirmed that she would be filming the video right before the album's release, and "the video would be her best video yet". On August 16, 2009 Colby O'Donis, who is featured in the single confirmed on MySpace that a video had been completed and is set to be released within a few weeks.
"Ruff Me Up", quicktempo treat was confirmed as 3rd single and released digitally to Amazon on July with a release aimed for the end of August. Due to the negative publicity for the song, claimed to be a rip-off from Britney Spears "Womanizer", Brooke stated that it is unlikely that the song will remain the third single, but if it does it will be released on September 8th. Brooke later stated on August 13th that "Ruff Me Up" will be the third and most likely final single. Video clip for the single was scheduled for late August but it's date is now pushed to late September.
But after all of this with just one video released, one coming up soon and one ready to be pushed out, she is holding auditions for her next video on 28th of this month. The video will be for "Strip" and many sites now claim it's the 4th single. So four confirmed singles with releases back to back, one video to be premiered soon and two to be filmed this fall and the album was all in all comercial dissapointment. "The Redemption" sold just over 6 000 copies and causes her label to release her from their contract after she finnishes the promotion next year.
Brooke will be blessed to leave such label behind. This is even messier than Pussycat Dolls schedule was.
Labels: Brooke Hogan
| 8 Comments



Serebro/Like Mary Warner (New Single!)

Posted on 22.8.09 at 11:41 PM.




Serebro, russian girlgroup is back! On 18th of June, nearly two months after their first album was released finally, it was announced that Marina Lizorkina (the blonde one) had left the band, due to both financial and personal reasons. Lizorkina was replaced by Anastasia Karpova. On 24th of June Serebro announced they had finished work on their new music video for their fifth single "Like Mary Warner" which will be released in English and Russian ("Сладко"), and it's to be premiered soon. This single is not featured on the band's debut album and will be the first song to feature the work of new Serebro member Anastasia Karpova.

Too bad Marina left the group, she was my favourite member and the most prettiest girl. This new single is more electric and the picture included in the video is from the new video that is set to be another beautiful well made clip. This song is no "Opium" but it's fantastic.


Labels: Serebro


| 5 Comments



The Saturdays/Forever is Over (Premiere)

Posted on at 7:35 PM.




The Saturdays new video just leaked and it's called "Forever is Over". Apart from the first impression of the snippet, I must say this song is absolutely fantastic. Even though I don't like the new darker style. The video is so diffirent from their previous videos and they all look stunning. This video shows pretty much a new side of them, something we could already see from "Work" - a new mature image. This song will be a huge hit for them, I can now see the longevity on them. Can't wait for the song to leak!

Discuss.


Labels: The Saturdays, VipMedia Exclusive


| 7 Comments



VipMedia News Flash/

Posted on at 5:20 PM.


-According to MTV.com, the re-release of
Lady GaGa
's debut album called The Fame Monster will be released on November 24th and will include two discs. The same source also confirmed the date for
Britney Spears
Singles Collection being October 27th.
-
Madonna
seems to be #1 already in some countries with "Celebrate" but UK's Radio 1 has snubbed the Queen's single out from their playlist. Maybe the biggest UK Radio station haven't added the song to either of the three lists and this might affect on her sales in UK. Although Madonna will sell anything under her name anyway.
-
Jojo
, American singer is finally old enough to file a lawsuit and now she's already filing her first lawsuit against her record company. In a lawsuit just filed in NYC courts, JoJo claims her record company shoved her into a musical "limbo" because they wont let her out of her contract -- and they won't let her record a new album either! JoJo now wants a judge to force Da Family Entertainment to cut her loose, plus she wants at least $500,000 for her troubles.
-
Foreigner
's Mick Jones can start ordering caviar and Champagne again:
Mariah Carey
is releasing her own gospel-tinged version of his masterwork song, "I Want to Know What Love Is." It's the first "real" single from her new album following the summer release of the witty "Obsessed," which is also included on "Memoirs of an Imperfect Angel." The album and the single hit the world on Sept. 29th.
Labels: Britney Spears, Jojo, Lady Gaga, Madonna, Mariah Carey
| 8 Comments



Linda Teodosiu/Reprogram My Heart (Candlelight Version)

Posted on at 5:19 PM.



Linda Teodosiu and Candlelight Version of "Reprogam my Heart", that is included in the single. It changes a lot in the song and shows up the fragile vocals and ballad-skills of hers but I do prefer the real version. But great idea to make a single as a two diffirent versions for fans to choose from, to which one they prefer to listen to.

Also,

watch out a performance

of the Radio Edit of the song, she has fantastic voice! Great vocals, especially in the end!

Labels: Linda Teodosiu


| 0 Comments



Ashley Tisdale/Confirms her next two singles!

Posted on at 5:07 PM.


Ashley Tisdale's next single(s) have been confirmed, through her official board. "Sorry for the delay in posting this for you guys, as I know you've been anxiously waiting for it. I've been in meetings all morning, but have been thinking about you! We've definitely seen how passionate you all are about
both "Masquerade" and "Crank It Up"
from the latest polls. I know how much you guys love all the songs and all have different ideas about which one should be the single. Because you love both so much, we've decided we're going to campaign for both songs!
"Crank It Up" is going to be the official second single, but it won't be going to radio for a little bit. Since "Masquerade "is a big favorite too, we're going to hit the ground running with that song now. We've got a TON of really cool projects, contests, and other fun stuff planed for you guys. All of this is created especially for you since you've all been so involved, so stay tuned for more info coming soon."
Those two are definately the best choises, great job from the label. Hopefully she'll get even some success with those two. Why "It's Alright, it's OK" flopped, we'll never know.
Labels: Ashley Tisdale
| 1 Comments



The Saturdays/New Single Snippet!

Posted on at 4:59 PM.




The Saturdays are aiming for another huge hit, maybe their biggest yet. They've coming back with a new sound, They've re-designed their website and they will premiere the song and it's video back to back! The video for "Forever Is Over" is being shown on their website at 10AM this Monday, 24th of August, while the song will have it's first radio play on Radio 1's Switch show on this Sunday.

They've just released a snippet of the song and I must say that I'm not blown away, even though it's fantastic. The dissapointment comes from their new sound that is edgier, rockier but judging from the clip it sounds like something anyone else could do. Their first album was stylewise, soundwise pretty much their own style and something I was looking forward seeing more. Not excited over these new quitar-sounds.

Discuss.


Labels: The Saturdays


| 2 Comments



Ashley Tisdale/I'm alright, I'm OK (Live)

Posted on 21.8.09 at 8:41 PM.




Ashley Tisdale performing on America's got Talent. She performed her first single "It's Alright, It's Ok", making this her best performance of the song so far. Her energy was right, her vocals were fantastic and she looked just fine. It's great to hear her true talent nowadays, when she performs live. Hopefully this will make the song to be downloaded few times more to make it peak higher on Billboard Top 100. So make sure you go out and buy her single from itunes!




Labels: Ashley Tisdale


| 1 Comments



Heidi Montag/Body Language

Posted on 20.8.09 at 11:50 PM.


Are we totally out of our minds for posting this? No. It's the first official single from Heidi Montag, previously known as a cast of The Hills and currently a wife of Spencer Pratt. Enough of the media stuff and the last time mentioning her disguisting husband, but Heidi's first single is actually pretty good. It's called "Body Language" and it doesn't sound like Spencer recorded this himself with a cellphone as her previous songs sounded like or does it sound like a worst vocalist of the world trying to sell music with cheap audio effects and overproduced instrumental. This is actually well produced all the way and it sounds like a hit, even though it will never become one.
Let us call this guilty pleasure, but check out this song! Yes, the sample is the same that The Saturdays used for their first single "If this is Love" but that's where the similarities end. Heidi is also performing on the final of the Miss Universe Beauty Pageant, that will air on 23rd of August.
Download Body Language
Discuss.
Labels: Heidi Montag, VipMedia´s Recommendation
| 10 Comments



Madonna/New sneak peak of "Celebration"

Posted on at 11:24 PM.


Screen cap from upcoming Madonna video for "Celebration". They say don't be too quick to judge but I'd encourage you to tell us what do expect from this or what do you think about this "style" of Madonna's.
Video will premiere on August 28th.
Discuss.
Labels: Madonna
| 6 Comments



Kristinia DeBarge/Sabotage (Video)

Posted on 18.8.09 at 9:08 PM.




The American R&B Singer Kristinia DeBarge and her new video for "Sabotage". "Sabotage" is great follow-up for "Goodbye" that is still a hit in Europe. Kristinia has beautiful voice with passion and she looks gorgeous but I can't see her being huge years from now, like Rihanna that is now a huge star. Despite it, this song is very good, almost has a similar vibe to Keri Hilson's "Energy" but without being a rip-off. Fantastic single and nice video. I just have a feeling that she tries too much. Anyway, her first album "Exposed" is in stores now so go and get it!

She's also opening for Britney Spears second US leg of the tour.


Labels: Kristinia DeBarge


| 0 Comments



Rachel Stevens/Recording her comeback album!

Posted on 17.8.09 at 9:37 PM.




Remember Rachel? Rachel Stevens haven't officially released anything since her 2005 album "Come and Get It", if we don't count the official US itunes release of the record in summer of 2007. Now She's back in the studio recording her third solo album and she's excited to maker her comeback in music business. She told the Daily Express: "I have never been too tempted to do those reality shows such as I'm A Celebrity. It's not really my thing. I'd rather stay out of the limelight until I've done something I can feel proud of."

Rachel Stevens is known from her solo hits like "Some Girls", "Sweet Dreams my La Ex", "So Good" and her appearance as a member in the Pop-group S Club7 that dominated the world in early 2000's and coming second in UK's Strictly Come Dancing last year.

Labels: Rachel Stevens


| 8 Comments



Pussycat Dolls/Robin Antin confirms new info about girls and next album!

Posted on at 8:49 PM.


Robin Antin, the founder of The Pussycat Dolls has recently confirmed new details on interview. Robin ensures that next Pussycat Dolls album comes before Nicole Scherzinger's first solo record. "
We're first doing album number three with the Pussycat Dolls
and there was this whole thing that the Pussycat Dolls are breaking up. Here's the whole thing: and I twittered this, if the Pussycat Dolls are breaking up, you're going to hear it from me because its my group." Robin confirms and continues; "
Nicole is obviously our lead singer, we're going into the studio and begin recording and some of the other girls will also be recording. Nicole will end up doing her solo thing at some point but it's not right now.
"
Antin also confessed that it's hard
sometimes managing all of the girls, because they'd all like to get as much screen time as Nicole does.
"I understand that all the girls want to be seen and heard and I understand that everyone is here to be your best and achieve your goal and what you've been working on your whole life." Robin also touched upon a statement made by Melody Thornton, who made her feelings known on stage in her native Phoenix, Arizona in April. Robin says of Melody's outburst, "Her choice of words I think were probably not completely right in terms of the messages she was trying to get out there. I understand what she was trying to say all the girls will always try to say something and try to put it in the best possible way as they can. Sometimes it will be taken in another way. "
"
I am supportive of all of them and how they feel and what they want, but on the other hand, there's a reason why Nicole is our lead singer
. She is literally one of the most incredible singers and performers that i've ever known. She works so hard and practices 24/7, and she takes her dance classes. She works on her voice twentyfourseven and that's what it takes to be a star. If you want it and you want it bad, you have to work that hard. " Robin finnishes.
As a fan, I'd say this interview had great news and bad news. Robin doesn't seem so support in terms of giving the other girls their time and changing up the reciept. Album #3 is coming up, most definately next year but I can't help but to fear over this album ending up like a hot mess with all the girls being totally unhappy with the consept and Nicole soon overpowering the group totally, if it's even possible anymore. Robin, this is how you lose members.
Labels: Nicole Scherzinger, Pussycat Dolls
| 9 Comments



Posted on at 4:48 PM.


Mixup.com.mx accidently published
the real tracklisting of Britney's upcoming Singles Collection earlier. It was later removed from the site, but quick fans got hold on to the details. This site was the first one to publish Ashley Tisdale's correct tracklist for "Guilty Pleasure". The tracklist states there'll be four new tracks, all unreleased. See the tracklist below. Interesting!
Artist: Britney Spears
Title: The Singles Collection
Label: Jive Records
Release Date: 10/26/09
Tracklisting:
Disc 1:
01. ...Baby One More Time
02. Oops!...I Did It Again
03. I'm A Slave 4 U
04. Sometimes
05. Stronger
06. Overprotected (Darkchild Remix)
07. Born To Make You Happy
08. (You Drive Me) Crazy (The Stop Remix)
09. I'm Not A Girl, Not Yet A Woman
10. Lucky
11. Boys (The Co-ed Remix) featuring Pharrell Williams
12. I Love Rock 'n' Roll
13. From The Bottom Of My Broken Heart
14. Don't Let Me Be The Last To Know
15.
Bring Me Home
(previously unreleased)
Disc 2:
01. Gimme More
02. Toxic
03. Womanizer
04. Everytime
05. Circus
06. Piece Of Me
07. My Prerogative
08. Me Against The Music (featuring Madonna)
09. And Then We Kiss (Junkie XL Remix)
10. If U Seek Amy
11. Outrageous
12. Radar
13. Do Somethin'
14. Someday (I Will Understand)
15. Break The Ice
16.
Whiplash
(previously unreleased)
17.
Hush
(previously unreleased)
18.
Hold On To Me
(previously unreleased)
Discuss
Labels: Britney Spears
| 15 Comments



Sugababes/Interview

Posted on at 4:37 PM.



Check out interesting interview of the Sugababes from the fellow music-site,

That Grape Juice

. The girls reply to some of the questions fans have been asking alot. They talk about their previous album "Catfights and Spotlights", their possible release in US as well as going through the subject of are they too comercial now? They talk about the next album process and "Get Sexy", the first single obviously. Watch it and

see the part 2 of the interview from the Grape Juice!

Hopefully the Babes will recieve great success with this new joint!

Discuss.

Labels: Sugababes


| 0 Comments



VipMedia News/New Singles, New albums!

Posted on 16.8.09 at 5:21 PM.


-
Beyonce
's "Sweet Dreams" has been worldwide success and she's now moving on with the album. Her next single, the ballad "Broken Hearted Girl" is due for release August 28th just before her national tour, so she could have another Top 10 in September. "Broken Hearted Girl" was orginally scrapped for "Sweet Dreams" to be released instead, but now it's back on schedule after it turned out to be a hit.
-
Mariah Carey
's next album "Memoirs of an Imperfect Angel" was scheduled for an August 25th release, then moved to September 15th. Now it's set for September 29th. While the album date has changed alot, there is a small change with singles as well. The first single from Mariah's CD will not be "Obsessed". "That was just a summer trifle, and it was a lot of fun." Sources say the plan changed when "Obsessed" was bit of a flop and didn't deliver as well as it was expected. The real first official single is said to be a powerhouse ballad along the lines of "Vision of Love", chosen by Mariah herself that she wanted as a single in the first place.
-
Britney Spears
has been busy in the studio and now the inside sources have something to tell us. The new album is in makings and it's described to be "miles away from Circus" and "much more Blackout and In The Zone". Current working title is 'B Girl' and the sources claim she wants RedOne and GaGa to work on her next album. There is no dates for the album, but she's expected to release the new album on next spring as she is still recording new songs and finding new tracks to record in near future and she still has a tour to continue.
Labels: Beyonce, Britney Spears, Mariah Carey
| 10 Comments



Booty Luv/ Say It (Live)

Posted on at 4:58 PM.




Booty Luv performing "Say it", their new UK single. The performance was pretty good but they could've left out the "uh ooh's" because it didn't come off that well. But other than that their vocals were great and they looked good. Hopefully "Say It" becomes a hit, after it's finally being released properly. The single will be released on 31st of August in UK, so remember to get it!




Labels: Booty Luv


| 0 Comments



Pussycat Dolls/Ashley's Interview video from Behind the Scenes!

Posted on at 12:08 AM.




The funniest Behind the Scenes video of The Pussycat Dolls on tour, done, interviewed and uploaded by Pussycat Doll Ashley Roberts herself. The "bad" editing is so big part of the fun, which makes me think it was made like that on purpose. And the funniest personalities of the girls, especially how cute Ashley is herself. Great material and loving the shoutout to Jessica in the end. Who ever said these girls fake their chemistry and are Diva's behind the scenes anyway? Great video, Ash!

Bring on to Album #3!


Labels: Nicole Scherzinger, Pussycat Dolls


| 3 Comments



Kelly Clarkson/Already Gone (Official Radio Edit)

Posted on 15.8.09 at 10:58 PM.


Kelly Clarkson just released "Already Gone" in Australia and the single peaked in the charts at #15 with a help of physical single that includes Instrumental version. UK release date is September 7th, so remember that! The main issue of this post is the Radio Edit of the single that squeezes the song to under four minutes. After many unofficial "edits", we now have official radio version, but I think the final structure sucks but I let you judge it yourself. Enjoy!
Download new Radio edit of "Already Gone"!
What did you think about the "Radio Edit"?
Labels: Kelly Clarkson
| 3 Comments



Sugababes/Electric seventh album coming up!

Posted on at 9:49 PM.


Sugababes have revealed that their upcoming seventh studio album has an "eclectic" sound to it. The trio, who teamed up with producers including RedOne, Stargate and 'Bleeding Love' songwriter Ryan Tedder for the LP, claimed that the record showcases a different side to the group.
"It's quite an uptempo album with a lot of different sounds," Amelle Berrabah told DS. "Ne-Yo's written a song on the album called 'No More You', which is a midtempo ballad a bit like Rihanna's 'Hate That I Love You' or 'Take A Bow'. We got to be really hands on with this album in choosing the songs that we wanted," Keisha Buchanan said. Heidi Range added: "We've done a collaboration with Sean Kingston too, so it's a really eclectic bunch of songs, but it gels really well together I think."

Sugababes release new single 'Get Sexy' on August 31st.


Labels: Sugababes
| 3 Comments



VipMedia Presents.../Singles Review

Posted on at 8:26 PM.


Girls Can't Catch - Keep Your head Up
(Single out Now!)
UK's new girlgroup show that if
Girls can't catch
, they can indeed make
Catchy
music though. "Keep your Head Up" is fantastic piece of pop, even though their style or personalities wouldn't be as par with the perfect Pop-single. It's a great debut with bit more edge and attitude than the fellow girlgroups deliver. I can't see the longevity of this group like The Saturdays or Girls Aloud have, especially the one mentioned last has nothing to prove anymore. Sadly, it's been seen on UK charts that this song didn't meet the success it deserved but it's definately all on the zero promotion they had. Anyway, fantastic debut girls!
8/10
Lady Gaga - Paparazzi
(Out in UK/Australia now!)
"Paparazzi" is finally a single release! Gaga is now doing something diffirent from her past two bangers "Poker Face" and "LoveGame" and she's working it well on this diffirent Pop-track too! It could be Britney's, but it's Lady Gaga's shot to show the world how diffirent she can be as she has already proved her unpredictable nature in her outfits and interviews. This one is little softer and isn't right in your face but it's a little Pop perfection and has already recieved great Top 10 slots on almost everywhere released. Song features twisted love/obsession-themed words and Gaga's strong edgy recognizeble voice on the verses and beautiful soft vocals on the chorus, but no matter how great the song is on the record, she sounds just as fantastic performing this song live! Best possible single-choise from the album, that is packed with potential hits for the future if she chooses to milk the record to bits.
9/10
Backstreet Boys -Straight through my Heart (Soldier Down)
(To be released digitally: 18.8)
Backstreet Boys aren't gonna settle with remaining fans and their moderate success of previous few albums, they are hungry for another huge worldwide-hit and it's heard in this RedOne-driven first single. The song features similar 80's influenced beats as Enrique Iglesias and Lady Gaga's tracks produced by the same man, but it does have a good own sound of the boys. Chorus sounds like a huge next Backstreet Boys hit and verses feature all of the guy's fantastic vocals. It's unheard from the song itself whether it will be a huge hit all over or will it have just moderate success and Top 30 peaks, because it all depends on how well the promotion and video goes down but at least the fans and non-fans have given great reviews for the song. It's positive that Boys followed their roots and didn't go all Gaga to make a hit with repeative hooks and lose themselves into this new electric sound, although they do sound like they really tried their best to make this a huge hit. But isn't it supposed to be like that, everyone making the records sound like hits and their best efforts? Sounds like a hit to me, though I never got bored with their music in the first place and thought their gig and last album was fantastic.
8½/10
Kritisnia DeBarge - Sabotage
(Worldwide release soon!)
Fantastic "Goodbye" that was total club-banger with one of the best hooks for the summer and had minor success worldwide with the radio and club play is just to be released in some european countries and it peaked #15 in US already. The label is pushing double A-Side of "Future Love/Sabotage" out in US to create even more buzz around the new-comer. Kristinia has somewhat great features on her looks and great voice with potential, but something tells us she'll be drowned in the moderate hits world along with Ciara, Keri Hilson and others who have yet to get the worldwide success of R&B superstars like Rihanna. "Goodbye" was definately the sharpest she had to offer for now but "Sabotage" doesn't go to far with fantastic vocals and great melody. It's fantastic choise to get her name out there, but she will need more promotion and more edgier tracks to pull it off big time. There is lots of urban sisters out there to compete with but "Sabotage" is fantastic song to be added to your iPod's. Get it!
7/10
Madonna - Celebration
(Out now Digitally!)
Madonna's is ready to hit the clubs again with a new single from the hit collection under the same title. It seems like a confirmation about "Hard Candy" being just musical experiment that is now over, because the song kicks in with the most club-friendliest Dance-beats and the song's structure is like anthem of all club-hits. There is no doubts about this single being next worldwide #1 single again, if not just because it is Madonna (no matter how wrong or right it is) but like it was heard in some reviews, it does sound somewhat dated but maybe it's positive for Mad to finally find her own sound and not following the latest music trends and going all Gaga. "Celebration" is a huge dance-hit, despite the cheesy title and it does deliver great chorus and catchy hooks. While the song is fantastic and the greatest hits cover is fantastic, the single cover is trashy and horrible artwork - it just didn't work. Anyway, no matter how no-one will remember this song or the quite repeative and meaningless lyrics, "Celebration" will be another hit.

8/10
Sugababes - Get Sexy
(Out in UK 31.8)
Sugababes were in the same path with Backstreet Boys, to follow their current direction and just trust what they know best or to do something dramatically diffirent and make a move to sound of the hits today and be called "sellouts". They did just like BSB did and it for sure works with them too. "Get Sexy" sounds like a hot mess in first plays and if you knew these girls from the beginning, the image in your head for the song probably wasn't all positive. The single shapes up to be a huge hits with the repeative hook and the lyrics that makes you want to get all slutty and dance, which is very diffirent from how you felt like the first time. "Get Sexy" is a club-banger and just as effective as they intented it to be, but it's not immediate hit and it does wear out rather quickly - or it's just the fifty plays of the song since it leaked but it will be a huge hit probably for sometime. Sugababes do have more in store though, album with diffirent sounds, big producers and more electric-twist and it will possibly be a success for them after their previous album flopped. Remember to get the single when it's released, if not just for the two-sided posted included on the single.
8½/10
Do you agree?
Discuss.
Labels: Backstreet Boys, Girls Can't Catch, Kristinia DeBarge, Lady Gaga, Madonna, Sugababes, VipMedia Presents
| 2 Comments



Britney Spears/Single Collection news!

Posted on at 7:37 PM.


Britney Spears has been on studio yesterday again and sources say she has done a lot of recording since she first hit the studios in sweden. This time on Hollywood, she has recorded more songs and she was seen leaving the studios. Label insider has claimed the new songs are called "Dirty girl", "I wanna be down", For you (little me) and the new re-recording
"One More Time (...Baby One More Time 2.0) that was already said to be included on "Circus". There is also one tracklist provided by her record label in israel and it's posted below.
There is also other fake tracklists floating around and diffirent set ups, but hopefully we'll hear more soon when they have finnished recording of the new songs. Also, when the date of the collection release is in under two months they are pretty much in hurry to get it all together if there will be no pushing back. She's also said to be recording for the next album already.
Disc 1:
1. ...Baby One More Time
2. Oops!...I Did It Again
3. I'm A Slave 4 U
4. Stronger
5. (You Drive Me) Crazy (The Stop Remix)
6. Sometimes
7. Overprotected
8. I'm Not A Girl, Not Yet A Woman
9. Lucky
10. Boys (The Co-ed Remix)
11. I Love Rock 'n' Roll
12. Born To Make You Happy
13. Don't Let Me Be The Last To Know
14. TBA
15. TBA
Disc 2:
1. Gimme More
2. Toxic
3. Womanizer
4. Everytime
5. Circus
6. Piece Of Me
7. Me Against The Music
8. If U Seek Amy
9. Outrageous
10. Radar
11. My Prerogative
12. Do Somethin'
13. Someday (I Will Understand)
14. Break The Ice
15. TBA
16. TBA
17. TBA
Discuss.

Labels: Britney Spears
| 5 Comments



Christina Aguilera/Next album details!

Posted on 14.8.09 at 1:26 PM.


Christina Aguilera has replied to the fans asking about her next album. She said she's "finishing it up" now, and that she understands the fans anxious to hear it, but she doesn't want to spoil it. She said she's very proud of it, thinks it's her best work, and that she's challenged herself by trying different sounds and textures, not only in the music, but in her own voice that she didn't realize she was capable of. Miss Aguilera also confirmed a list of collaborations that she has made the future hits with. She worked with Ladytron, M.I.A, Sia and Santgold with the upcoming record.

Christina is said to take a time to experience with the album to be able to stand behind the record completely and she's yet to come up with the final look for the album, new visual image and the idea for the next promo pictures. There is no current confirmed date for the album, it's said to be pretty much unknown by everyone at the label when the album is ready.


Labels: Christina Aguilera
| 4 Comments



Nicole Scherzinger/Wants her piece of "Take That".

Posted on at 1:12 PM.


Take That front man Gary Barlow will be a very busy man over the next year if Nicole Scherzinger gets her way. The Pussycat Doll leader wants the Take That singer to pen her some tracks for a planned solo effort. The pint-sized pop princess, also working on a third album with the girl group is preparing a big relaunch for her solo career.
A source said: "Nicole believes that everything Gary puts his hand to is amazing. She is convinced he can provide the hit she needs. Nicole has been busy in the studio while the girls have just finnished their tour.
Labels: Nicole Scherzinger, Take That
| 2 Comments



VipMedia Exclusive/Anna Abreu

Posted on 13.8.09 at 11:39 PM.


Anna Abreu (Finnish Pop-princess) is kicking out the new album era with brand new single "Music Everywhere" that has one of the catchiest choruses of the year and the single cover is just gorgeous. Now as a VipMedia exclusive, here's HQ of Anna's new single, just been released in Finland. Anna's latino-roots barely are heard on this more electric dance-tune, but she'll get another #1 single in Finland with this. After the clip was uploaded on youtube, it's been recieving great reviews from abroad and I still think Anna should release stuff worldwide. She does have the voice and music for it, right?
Download "Music Everywhere"!
Discuss.
Labels: Anna Abreu, VipMedia Exclusive, VipMedia´s Recommendation
| 1 Comments



Miley Cyrus/Party in The USA (Live)

Posted on 12.8.09 at 8:30 PM.




Miley Cyrus performs her latest single "Party In The USA" live on Teen Choice Awards 2009. This is posted also because of the whole unneccessary pole-dancing controvercy. Miley is 16 year old girl, pretty normal girl at her age and apart from her "personal photos" that caused a buzz last year, she is not Vanessa Hudgenss. So basically the whole controvercy was just big pile of toss and there is no stripping on a pole. Anyway, great performance vocally and she puts on a show. For kids too.

Discuss.


Labels: Miley Cyrus


| 4 Comments



Britney Spears/ Circus (Pro Live from Tour)

Posted on at 6:25 PM.




World Premiere of the offical professional footage from the "Circus Tour" with Britney Spears performing "Circus". The song features pre-recorded live vocals and it was broadcasted first on Yahoo. Great performance from Britney and even though it's shot professional and we can see her well and hear the audio as HQ, the DVD will not be anything like this for sure, this is just a little "snippet" for the fans. So never mind the poorly shot Intro.

News about the Tour DVD are still unofficial but hopefully we'll know more soon! Great video to make a little buzz after we got no live performance on TCA.


Labels: Britney Spears


| 15 Comments



Britney Spears/Unusual You next single?

Posted on at 12:18 AM.


Sources now claim Britney Spears will release "Unusual You" as the fifth single from "Circus", instead of planned "Mannequin". It was posted here before that she is rumoured to be adding the song for the final setlist of the tour. The Bloodshy & Avant produced dance-ballad has been a fan favourite, and topped several polls as the ideal choice for Britney's next single.

The article, that claims the single to be now "Unusual You" also mentions that Britney's upcoming compilation album "The Singles Collection" will feature two leftover songs from the "Circus" recording sessions, as well as some new tracks produced by Max Martin, and the Russ Castella produced "Dirty Girl". "The Singles Collection" is currently due for release on October 27th.

Unfortunately we don't really think this will happen (I think she'll release a new song instead) or that "Unusual You" would be horrible choise for a single now. It does get boring really quickly despite how good the song is.


Labels: Britney Spears
| 8 Comments



Miley Cyrus/Official cover & tracklist for EP!

Posted on at 12:11 AM.


Walmart.com has confirmed the official cover art and tracklist for upcoming Miley Cyrus release "The time of our Lives EP" that'll be released on August 31st exclusively on Walmart. Seven-song album includes her new single "Party in the USA" that IS fantastic song despite the horrible title of the song. The cover art isn't the best photoshop work or most flattering picture of Miley and she's NOT covering Ashlee Simpson (Kicking and Screaming) or Mariah Carey (Obsessed) on the release. It'll still be interesting. Miley has definately turned me into a small fan with her two brilliant previous singles.
1. Kicking and Screaming
2. Party in the U.S.A
3. When I Look At You
4. Times of our Lives
5. Talk is Cheap
6. Obsessed
7. Before the Storm (with Jonas Brothers) (live)
Labels: Miley Cyrus
| 0 Comments



Lady Gaga/LoveGame (UK Cover)

Posted on at 12:06 AM.


Official cover art for
US Remixes
UK CD Single. Oh well, probably gonna get this edition too right next to 12" US Remix-vinyl, US Remixes EP and Australian Edition of the single.
Discuss.
Labels: Lady Gaga
| 5 Comments



The Veronicas/4ever (UK Video)

Posted on 11.8.09 at 12:42 AM.




Don't The Veronicas trust their new material enough to release more singles of their NEW material, because their new UK Single is "4ever", a single released first in their debut album on 2005. "Untouched", the previous single that turned out to be a hit even after a good awhile since it was released digitally already nearly two years ago orginally in Australia. "4ever" IS nice song, it's not about that but it's just even more weird choise than Britney's "Radar" was. They filmed a new video for the single, now featuring Jessica's new blonde hair do'. All in all they have now done three videos for the song, one for US Audience, one for Australian release and one for UK. The video is nice party clip, but nothing special and the girls don't look their best in the video. But only time will tell will "4ever" do it's magic and work them another hit in UK, because the song does have lot of potential.

Discuss.


Labels: The Veronicas


| 2 Comments



The Saturdays/New album & single release dates!

Posted on 10.8.09 at 11:43 PM.


The Saturdays are set to release their 2nd studio album on October 12th. UK girlgroup just finnished their promotional tour in Malaysia, part of their promotion project in Asia. The first single, being premiered within two weeks is called "Forever Is Over", which will be released officially on October 5th. The video they shot for the single will be premiered at the end of this month, according to sources. So beware of the upcoming promotion, The Sats are ready!
Labels: The Saturdays
| 0 Comments



Girls Aloud/Untouchable (Sky1 "Out of Control" Broadcast)

Posted on at 11:34 PM.




Literally amazing Girls Aloud performing "Untouchable" on the SkyOne's broadcast from "Out Of Control Tour". This does make you miss the girls now that they have their year off and want the Tour DVD to be released soon? More details of upcoming Tour DVD will be announced later. The girls are just breathetakingly beautiful and their vocals leave lot to be expected from other girlgroups out there, because these girls are full of talent. Why was this song comercial dissapointment anyway? It's the only song I never get tired to listen to.

Anyway, tell us what you think!
Discuss.


Labels: Girls Aloud


| 7 Comments



Britney Spears/TCA red carpet & Music news!

Posted on at 3:16 AM.


Britney Spears, who has just
entered Teen Choise Awards
after posing for media in the red carpet
(Pics
here
,
here
,
here
and
here
) and she'll be officially recieving an award but there is yet mixture info about her part in the show. Is her performance really just kept under a wrap to the show itself or was it just the error in the official site? It all will be confirmed tomorrow.
As for the music-related news, there is new information recieved from sources saying that Britney has already begun working her next album. It's so far unconfirmed, but she was in the studio for 20 hours a day in swedish recording studio with Max Martin, while she was on her scandinavian tour dates. Also, insider says that there is a TV Premiere of the tour planned. TV Prodcast from "Circus Tour" will be shown within two months and negotions about it are being finnished. It will be a pre-promotion for the Tour DVD, they say. Hopefully confirmation about her future projects will appear soon, because there is lots of mixture info around.
But, back to the pictures...
Wasn't she super-beautiful?
Labels: Britney Spears
| 3 Comments



Lady Gaga/Releasing final European Single!

Posted on at 3:09 AM.


Lady Gaga is ready to release the final single in europe from "The Fame" that has sold nearly 3 million copies worldwide. "Boys Boys Boys" is the next single, according to sources. Gaga herself has said that she'll be shooting a final video for european single, before moving on to "Monster"-rerelease. "Boys Boys Boys" will be released in most countries of europe after "Paparazzi" was released in australia and UK and up next in US, "LoveGame" was european, US and Canadian single and will be the 4th UK single and "Eh Eh" was for Australia and selected european countries. More news coming up soon!
Is it good choise?
Discuss.
Labels: Lady Gaga
| 10 Comments



Sugababes/Confirmed tracks for next album!

Posted on at 2:59 AM.


Sugababes seventh album is due on November, but we have lots to get before the album comes out. "Get Sexy", to be released at the end of this month and RedOne-driven "About a Girl" to be premiered next month will be also released before the album. This is the list of the confirmed tracks on the Suga-album #7.
About A Girl
Get Sexy
Litte Miss Perfect
No More You
Thank You For The Heartbreak
Wait For You
Wear My Kiss
Labels: Sugababes
| 2 Comments



Sugababes/About a Girl (Live)

Posted on 9.8.09 at 12:40 AM.




Sugababes performing their second single "About a Girl" for the first time. For a fan-recorded video, fantastic quality! It's nice to hear a new electric dance track from the girls, with "Red One, Sugababes" being said in the intro. I bet the girls orginally wanted this to be a huge summer-hit, which it could've been. Sounds fantastic! I bet the Suga's gonna have a great success in the charts with this album. And fantastic live-vocals, as always!

Discuss.


Labels: Sugababes


| 7 Comments



Janet Leon/Heartache on the Dancefloor

Posted on 8.8.09 at 5:41 PM.



Janet Leon, who's ex-member of girlgroup Play and entered the swedish charts with her solo debut "Let Go", has a new song out. Her official second single is called "Heartache on the dancefloor". Listen to the song and you'll find it pretty fantastic Pop-treat. While I was listening to it, some other track started to play in my head though. I had to stop the song and think that what was the other song that was so similar to the chorus, and it's pretty much indentical to Chris Brown's "Forever" with slight diffirence and lyrics. Anyway, nice single she released but it just makes me think how hard it is to write a song these days because everything starts to sound so similar to something else. Have we already heard everything we can come up with in music?

Download the song as mp3!




Discuss

Labels: Janet Leon, VipMedia´s Recommendation


| 0 Comments



VipMedia's News Flash/

Posted on at 3:58 AM.


-
Ashley Tisdale
has confirmed the next single being either
Masquerade
or
Crank It Up
. Personally I'd be rooting for brilliant
Crank It Up
, even if it's more like a song from
Headstrong
than from new album. Her new album
Guilty Pleasure
has sold about 30 000 copies in US.
-
Girls Aloud
member
Cheryl Cole
's debut solo single is "absolute club banger". The Girls Aloud beauty is currently working on her solo album and has collaborated with British R'n'B star
Taio Cruz
for one of the songs. Taio said: "The track is an absolute club banger. Cheryl will definitely come out of the gates sounding very cool. Press releases will be released very soon and Cheryl will perform her debut single on X Factor, with radio premiere coming soon.
- German girlband
Monrose
are currently working on their upcoming 4th studio album to be released early next year with first single being premiered this fall. Girls are excited to launch the new project soon, after their previous album "I Am" was comercial dissapointment.
-
Westlife
have promised fans their new album will have no cover versions as they bid to launch the ultimate pop comeback. Singer Shane Filan revealed: "The album will have no covers at all - we want it to be our strongest ever. We're working on it in the studios at the minute and it's really exciting. We know this has to be something special because we have been away for over a year. I think everyone is going to be really surprised when they hear it." Westlife will release their new single on September, according to sources.
Labels: Ashley Tisdale, Girls Aloud, Westlife
| 1 Comments



Upcoming Releases/

Posted on at 2:32 AM.


Upcoming Releases:
-
Lady Gaga
switches up "Paparazzi" for US with radio add on September 15th and "LoveGame" for UK with single release on 21st of September.
-
Black Eyed Peas
will wait until november to release 3rd single "Meet me halfway", because they are said to be touring UK around that time. More news soon!
-
German girlgroup
No Angels
will release their new single "One Life" on 21st of August, before the new album "Welcome to the Dance".
-August 10th is the date of physical UK CD Single of
Beyonce
's "Sweet Dreams", go get it and help it to became #1 single there. It's already #6 on UK charts.
-
Whitney Houston
's "Million Dollar Bill" will impact on radios from august 17th, and digital release is day later. Preview the song on her official site!
-
Jordin Sparks
"S.O.S (Let The Music Play)" has been added to radios in US with a video being shot soon.
-
Backstreet Boys
new single "Straight through my heart (Soldier Down) will be available on iTunes on August 18th, served to radios day before and the video will be out on 25th according to rumours.
| 1 Comments



Britney Spears/Official site changed TCA information, Britney APPEARING on the show!

Posted on 6.8.09 at 9:11 PM.


Britney Spears official site has now changed her to be
appearing
on Teens Choise Awards instead of performing. Sources say that she's set to be recieving a Ultimate choise award and her "performance" would be pre-recorded live performance from the tour, exclusively to be proadcasted on the show. Fans are at the moment furious about the last minute changes on the site, with lots of mixture information publish around the web. She'll officially appear on the show now with more details coming up soon.
Also, before her next US leg of the tour starts up on August 20th, there is plans for the video shoot according to a diffirent source. "Singles Collection" is set to be released later this fall with new songs to be included. "Dirty Girl", a new song she has recorded will not be the first single from the collection though, according to same source.
Access Hollywood tells all about this confusing drama. "Britney Spears will appear on Monday's Teen Choice Awards, the star announced in an updated post on her Web site. The site initially announced on Thursday morning that she would perform on the show. Following the initial announcement, a rep for the ceremony told Access Hollywood that the pop princess would not be performing.
However, show reps did confirm Britney will be honored with the Ultimate Choice Award at the show, where she's nominated for Choice Music: Single, for her song "Circus," Choice Music: Female Artist and Choice Music: Tour. Britney will break from her European tour to make the ceremony, which airs Monday at 8 PM ET on FOX. Other celebs in attendance will include the cast of "Twilight," Miley Cyrus, who'll be performing her new single, "Party in the U.S.A.," and the Jonas Brothers, who will be hosting the show."
Whatever is happening now, it's all a mess -The information regarding Britney Spears, even on her official site. Crazy!
Labels: Britney Spears
| 4 Comments



Mariah Carey/Obsessed (Live)

Posted on at 7:55 PM.




Mariah Carey performing her single "Obsessed" on AGT. The performance was well planned, but as we see - it wasn't that overwhealming. It's hard to hear what she actually performed live, because it was all bit of a hot mess of back-up singers, playback and her vocals. And her dance moves were bit rusty, but the dancers kept the energy on. "Obsessed" sure is hard song to perform live, even if it's fantastic Pop-treat. Hopefully Mariah can step up though to her next performance, because this wasn't what you'd expect from someone like Mariah. Glad to see "Obsessed" is rising on charts though.



Labels: Mariah Carey


| 14 Comments



Jeanette/"Solitary Rose" is the 3rd single!

Posted on at 5:32 PM.


While German Pop princess Jeanette's new album "Undress to the Beat" hasn't been the comercial success as it deserved to be and her previous single "Material Boy" flopped, she's trying to rescue the album with a ballad. "Solitary Rose" will be the next single from the fantastic Pop-album. There is no official date for the single yet, but hopefully she will shoot a video for it and it will be a success. "Chasing a Thrill", "In or Out" and "No Rules" are definately single-worthy tracks too, if not even better than the three singles released already.
Labels: Jeanette
| 0 Comments



Britney Spears/Performing on Teen Choise Awards!

Posted on at 4:29 PM.



Wow. Britney Spears is performing at the Teen Choice Awards on Monday, 10th of August. Tune in to Fox at 8/7C to see Britney's performance and if she wins the three awards she's nominated for. Rumours are that she'll perform "Radar" to promote the song and make it rise up in the charts to avoid flopping. Label is said to be scrapping 5th single plans and moving on to Singles Collection and the first single, if "Radar" flops everywhere. Other sources claim, she'll perform some kind of medley. Anyway, Britney's TV-Performances are something we've been looking for long time! And she's now blonde, just in time for the show.

And

apparently it's been half-confirmed

now that she'll take the stage again on VMA's!

Discuss.

Labels: Britney Spears


| 4 Comments



VipMedia News Flash/

Posted on at 12:56 AM.


-
Mutya Buena
and
Siobhan Donaghy
must be pretty pissed, when
Amelle
becomes the first Sugababe to have #1 single as a solo artist. She's last to arrive to the group on 2005, joining Heidi and Keisha (the only orginal member of the group). Tinchy Stryder featuring Amelle "Never Leave You" is set to be #1 single on UK charts this week after being on top spot of both Ireland's and UK's itunes charts. Amelle will be seen with the rest of the
Sugababes
promoting "Get Sexy" on 30th August, day before the single release when the T4 performance is prodcasted.
-
Robbie Williams
is also eyeing for comeback. "Reality Killed The Video Star" is the title of his upcoming album released on November 9th. The first single from the album, "Bodies" will be released on 11th October. Williams described the new record as "a killer". He said listeners would hear "old Robbie, new Robbie and a Robbie that neither of us have met". Robbie Williams' last album, Rudebox, went to number one in 2006
-

Christina Milian

has confirmed t
hat she's signed a deal with Interscope Records, and that her fourth studio album "Elope" is finally ready for release.
"Everything literally just got wrapped up" says Milian "I just signed my deal with Interscope about a month ago because it took a long time to negotiate. We're picking out the single, and every other day something gets leaked so we have to go back into the studio and record new songs because of that". Milian is set to confirm the date of the album very soon.


Labels: Christina Milian, Robbie Williams, Sugababes
| 4 Comments



Jade Ewen/ My Man (Video)

Posted on at 12:42 AM.




Jade Ewen, UK's entry for Eurovision song contest 2009 is not ready to be left in the shadow of the competition, though she did manage to get highest position for years on the competition. Jade appears on the new video for "My Man" with quite diffirent style to what we saw earlier when she walked on Eurovision with her night gawn, performing a ballad as classic beauty. Her new image is bit raunchier than most expected, hopefully it won't scare people away, because the video and the song are fantastic! "My Man" is something you'd expect from Jamelia's comeback single, but she isn't here now, right? The song is catchy and radio-friendly and it's the first official single (if you don't count the eurovision one) from the upcoming first album "Punching Out". Great Job Jade!

Discuss.


Labels: Jade Ewen, VipMedia´s Recommendation


| 0 Comments



Girls Aloud/Cheryl wants GA to crack US!

Posted on 5.8.09 at 12:11 AM.


Cheryl Cole (left) has revealed that she wants Girls Aloud to crack America in the future.
The 26-year-old singer confirmed that she would like the girlband to be judged on their own merits across the pond rather than being compared to their Spice Girls predecessors.

Speaking to OK, Cole explained: "I think any artist would like to break America. If you break there, you can break anywhere. It's a big, big deal and a lot different to us. I'd like the success of breaking in America, but we're not the Spice Girls - we're not musically like them, we don't look like them."

Last year, Cole's bandmate Nadine Coyle claimed that the group are reluctant to try for success in the US, despite interest from labels there. At the time, she commen
ted: "Labels want to sign us. But we're asking ourselves whether we really want to start off from scratch doing all the crap to work our way up again or are we happy at the level we're at now - where we have a safe haven in the States where no-one knows who we are or what we're doing?"


X Factor judge Cole has also been tipped for a TV career in the States in recent months.


Labels: Cheryl Cole, Girls Aloud
| 2 Comments



Video Music Awards 2009/Nominees

Posted on at 12:00 AM.


Britney Spears, Beyonce and Lady Gaga are dominating this year's VMA's. This year Britney Spears has seven nominations while last year, the pop princess took home three trophies for "Piece of Me." Lady Gaga and Beyonce both have nine nominations. Gaga is expected to win at least few with the biggest hit of the year, "Poker Face".
This year's awards will be handed out and broadcast live on MTV from New York's Radio City Music Hall Sept. 13. Russell Brand returns as host. Right now it looks like Britney won't perform this year, when stars like Taylor Swift, Pink, Green Day and Muse climb to the stage. More performers will be announced later. Below are the list of nominees.
VIDEO OF THE YEAR
Beyoncé: Single Ladies (Put A Ring On It)
Lady Gaga: Poker Face
Eminem: We Made You
Kanye West: Love Lockdown
Britney Spears: Womanizer
BEST NEW ARTIST
3OH!3
Lady Gaga
Kid Cudi
Drake
Asher Roth
BEST MALE VIDEO
Eminem: "We Made You"
Kanye West: "Love Lockdown"
Jay-Z: "D.O.A (Death of Auto-Tune)"
T.I. featuring Rihanna: "Live Your Life"
Ne-Yo: "Miss Independent"
BEST FEMALE VIDEO
Beyoncé: "Single Ladies (Put A Ring On It)"
Lady Gaga: "Poker Face"
Taylor Swift: "You Belong With Me"
Kelly Clarkson" "My Life Would Suck Without You"
Katy Perry: "Hot 'N Cold"
Pink: "So What"
BEST HIP-HOP VIDEO
Eminem: "We Made You"
Kanye West: "Love Lockdown"
Flo Rida: "Right Round"
Asher Roth: "I Love College"
Jay-Z: "D.O.A (Death of Auto-Tune)"
BEST POP VIDEO
Beyoncé: "Single Ladies (Put A Ring On It)"
Britney Spears: "Womanizer"
Cobra Starship featuring Leighton Meester: "Good Girls Go Bad"
Lady Gaga: "Poker Face"
Wisin y Yandel: "Abusadora"
BEST ROCK VIDEO
Coldplay: "Viva La Vida"
Kings Of Leon: "Use Somebody"
Green Day: "21 Guns"
Fall Out Boy: "I Don't Care"
Paramore: "Decode"
BEST CHOREOGRAPHY
Beyoncé: "Single Ladies (Put A Ring On It)"
Britney Spears: "Circus"
Ciara featuring Justin Timberlake: "Love Sex Magic"
AR Rahman & Pussy Cat Dolls featuring Nicole Scherzinger: "Jai Ho! (You Are My Destiny)"
Kristina DeBarge: "Goodbye"
BEST DIRECTION
Beyoncé: "Single Ladies (Put A Ring On It)"
Lady Gaga: "Paparazzi"
Green Day: "21 Guns"
Cobra Starship featuring Leighton Meester: "Good Girls Go Bad"
Britney Spears: "Circus"
BEST EDITING
Beyoncé: "Single Ladies (Put A Ring On It)"
Britney Spears: "Circus"
Miley Cyrus: "7 Things"
Coldplay: "Viva La Vida"
Lady Gaga: "Paparazzi"
BEST SPECIAL EFFECTS
Beyoncé: "Single Ladies (Put A Ring On It)"
Gnarls Barkley: "Who's Gonna Save My Soul"
Lady Gaga: "Paparazzi"
Eminem: "We Made You"
Kanye West ft Mr. Hudson: "Paranoid"
BEST CINEMATOGRAPHY
Beyoncé: "Single Ladies (Put A Ring On It)"
Coldplay: "Viva La Vida"
Green Day: "21 Guns"
Britney Spears: "Circus"
Lady Gaga: "Paparazzi"
BEST ART DIRECTION
Beyoncé: "Single Ladies (Put A Ring On It)"
Britney Spears: "Circus"
Lady Gaga: "Paparazzi"
Gnarls Barkley: "Who's Gonna Save My Soul"
Coldplay: "Viva La Vida"
BREAKTHROUGH VIDEO
Death Cab For Cutie: "Grapevine Fires"
Gnarls Barkley: "Who's Gonna Save My Soul"
Anjulie: "Boom"
Cold War Kids: "I've Seen Enough"
Chairlift: "Evident Utensil"
Bat For Lashes: "Daniel
Major Lazer: "Hold The Line"
Passion Pit: "The Reeling"
Matt & Kim: "Lessons Learned"
Yeah Yeah Yeahs: "Heads Will Roll"
Go to MTV's site to VOTE!
Labels: Beyonce, Britney Spears, Lady Gaga
| 9 Comments